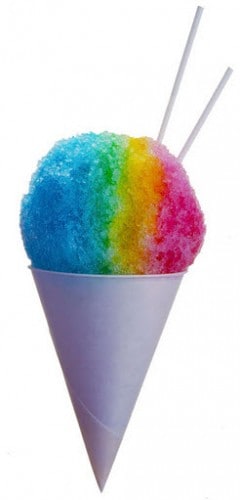 Many unusual and exotic things to eat can be found in restaurants and grocery stores here. We recommend you be adventurous and try these suggestions.
Our top taste treats in the Islands are:
1. Shave Ice or Shaved Ice – The island replacement for ice cream is literally finely shaved ice with sweet and colorful flavored syrup poured over the top. Variations include azuki beans or ice cream at the bottom. Island Snow in Kailua is one of the favorite local shave ice stores — President Obama usually stops in for shave ice there when he's on vacation in Oahu.
2. Cracked Seed – Available at any convenience store, Li Hing Mui, Pickled Mango and many others are a favorite of local kids and adults alike. These intensely flavored snacks are dried and pickled fruits that are meant to be nibbled.
3. Plate Lunch – Look for vans with long lines standing outside, and you've found a plate lunch wagon. Plate lunches are a bargain, with helpings large and tasty. A typical plate lunch consists of two scoops rice, macaroni salad and meat (teriyaki chicken or beef is always a good choice.) You'll find them all over the islands — often near beach parks or downtown office areas at lunch time.
4. Kalua Pig – Pork, slow cooked in an underground oven takes on a unique smoky flavor that is delicious. This island favorite is available at luaus or typically on the Friday menu specials at local restaurants.
5. Apple Bananas – This small local banana beats those big Chicitas by a mile! Look for roadside stands or buy these local-grown from the grocery or at farmers' markets.
6. Mangos – Seasonally available, you'll often find kids selling them outside their homes in rural areas for 50 cents each.
7. Haupia – One of our island favorites, this dessert that is somewhat like a cross between pudding and jello is made from coconuts. It is available at luaus or typically on Friday specials at restaurants.
8. Lychee – Buy this at groceries and farmers' markets. The hard prickly outer shell is peeled off to reveal a delicious, sweet fruit with the texture of a grape but much tastier.
Adults Only
Most kids will not appreciate the following… but we do recommend that the adults in the family give these a try:
9. Lomi Salmon – Another island favorite made with salmon, green onions and tomatos, available at luaus or typically on Friday specials at restaurants.
10. Poi – A staple of the Hawaiian diet, you may not like its bland flavor but you need to at least try it! Tastes great as a chaser to Lomi Salmon or Kalua Pig.
11. Laulau – A luau is the best place to try this unique Hawaiian dish made with leaves similar to spinach wrapped around pork and butterfish.