You'll find lots of Maui kids activities, both in resort areas and out in the "country." Maui is a favorite destination for many families who visit Hawaii. Its small-town charm, award-winning restaurants, world-class hotels and natural beauty offer something for everyone.
Our recommendations for Top Maui Kids Activities
You can get an up close view of Hawaiian Marine Life without getting wet at this top-notch aquarium located on the coast in Maalaea (between Kihei and Lahaina). A highlight is the acrylic tunnel to walk through as sharks, stingrays and colorful fish swim around you. Maui Ocean Center tops the list of Top-Rated Attractions in Hawaii (Zagat Survey's U.S. Family Travel Guide). It's a good idea to buy tickets online to avoid waiting in line at the aquarium. Great for kids of all ages.
Maui is blessed with unbelievably scenic areas to hike through. Hana and Haleakala are two popular and very different hiking areas. Hana even has a lava-tube that can be hiked to —  a really fun adventure for a young cave explorer. Taking a guided tour is recommended for safety as well as fun. Here's some good Hiking and Eco Tours on the island of Maui.
See the sunrise from high atop Haleakala Crater
You'll have to get up early to see a spectacular sunrise over Haleakala but it's worth it! You can drive yourself if you have a rental car or take the Haleakala Sunrise Adventure bus tour
. If you're driving you'll want to bring blankets and jackets, and pack some hot cocoa for the kids and coffee for you… it is amazingly cold up there. The visitor center is very informative and is a good place to warm up. Check out the many letters from people who have taken a souvenir lava rock home and what has befallen them since.
Take a Helicopter tour of Maui
A Helicopter Tour
will give you a whole new view of the island. Our favorite flight also takes in the spectacular cliffs of Molokai. This is a better activity for older and adventurous kids. Here's a list of helicopter tours on Maui
.
Explore Upcountry Maui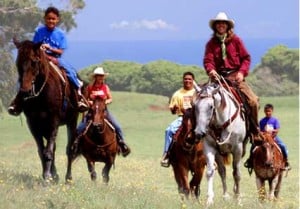 Rolling green hills, spectacular views, tiny cowboy towns and friendly people make this part of Maui so special. You'll drive through upcountry on your way to the Haleakala Summit. Kula, in upcountry, is home to Surfing Goat Dairy. They offer tours (check website for cost and times) where Maui kids can meet and feed the goats, pet the babies and then see how the goats are milked and cheese made. We always try to work in at least one horseback ride when we travel…Piiholo Ranch
is a working cattle ranch that offers top quality trail rides.
Snorkel Molokini
The crystal clear water of the small offshore island of Molokini teems with tropical fish and friendly turtles. You'll need a boat to get there, Here's a link to several snorkeling tours on Maui.
  Recommended for older kids and those who do not get seasick. Bring waterproof sunscreen, snacks and drinks.
Maui Kids will love a Luau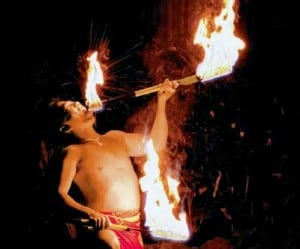 The luau is a uniquely Hawaiian feast and celebration. Great entertainment, ono (delicious) food in a spectacular location make for a luau to remember. We really like the Royal Lahaina Luau
. Their buffet menu has all the traditional Hawaiian foods as well as delicious offerings for the less adventurous. The keiki menu has kids' favorites like hot dogs, macaroni and cheese and corn on the cob.
Other Ideas:
Maui's Cities and Towns
Lahaina, once the royal capital of Hawaii and then a whaling center, still retains its salty heritage. Quaint shops and restaurants hang precariously over the shore, making for spectacular oceanfront dining and shopping. One of our favorite casual Lahaina restaurants is "Cheeseburger in Paradise". Lahaina is baudy and bustling – a must see on your visit. You'll find plenty of shops selling tourist trinkets and t-shirts… buy your souvenirs and gifts here rather than at the airport.
Maui kids will love climbing the giant Banyan tree in "Banyan Tree Park," not far from the Lahaina Inn. The tree spreads 200 feet from side to side, and there are plenty of low branches to scramble up and balance on.
You'll find elegant hotels, fun sandy beaches and charming art galleries in beautiful, ever-sunny Wailea.
Paia and Hookipa are fun surf towns with casual cafes, antique shops and hippies from a by-gone era.
Upcountry Maui towns of Kula and Olinda are cool retreats from the seaside bustle.